Vehicle Registration Services
Skip the lines and use The Rios Insurance Agency for all your DMV Service needs!

There is no need to visit the DMV and wait your turn in line. There's nothing more frustrating than finally having your number called, only to have to turn around and go back home because you didn't bring all of the necessary documents. Since we all have important things to do, you can save valuable time using our Vehicle Registration Services at "The Rios Insurance Agency LLC".
---
Download and print this coupon »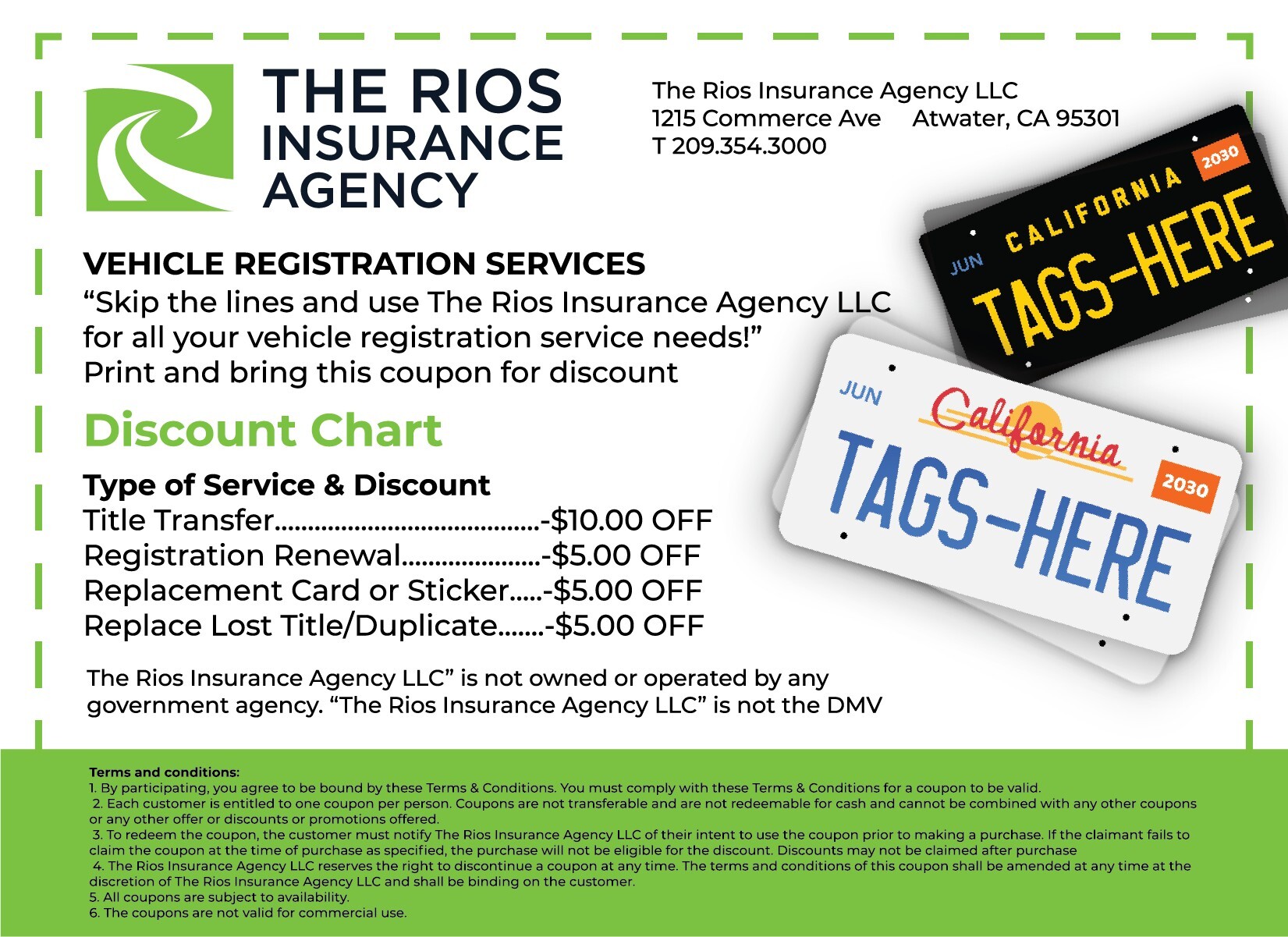 ---
The Rios Insurance Agency can process the following Registration Services:
Transfer Vehicle Title (In-State) $45
Transfer Vehicle Title (from Out-of-State) $50
Registration Renewal $30
Registration for Non-Operation $20
Replace Lost Sticker/Registration Card $30
Replace Lost Title/Duplicate $30
One Day Permit $10
Revived Junk $100
Driver's Record & Vehicle Record $15
VIN Verification***** $85
Release of Liability $10
Clear a Suspended Registration $10
Add/Remove Affidavit of Non-Use $10
*Fees are in addition to DMV fees, penalties, taxes and outstanding citations.
**The Rios Insurance Agency LLC is not owned or operated by any government agency. The Rios Insurance Agency LLC is not the DMV. California Department of Motor Vehicles License # 02871.
***Credit Cards convenience fee 2.9% where applied.
*****Pending permit, this service will be available in the future
If requested, we can calculate the vehicle registration fees only, but there will be a $15 charge for us to calculate any fees without a transaction